Skip to Content
Commercial HVAC in Central Illinois
Keeping your staff and customers satisfied during the workday is crucial to your productivity and growth. Thermal Services Inc. fosters comfortable workplaces by providing commercial HVAC repair for Central Illinois businesses. For over 15 years, our team has provided leading heating and cooling services and products. Our services include repairing, installing, and maintaining all system makes and models. One of our primary goals is to keep your employees and clients safe and happy from open to close.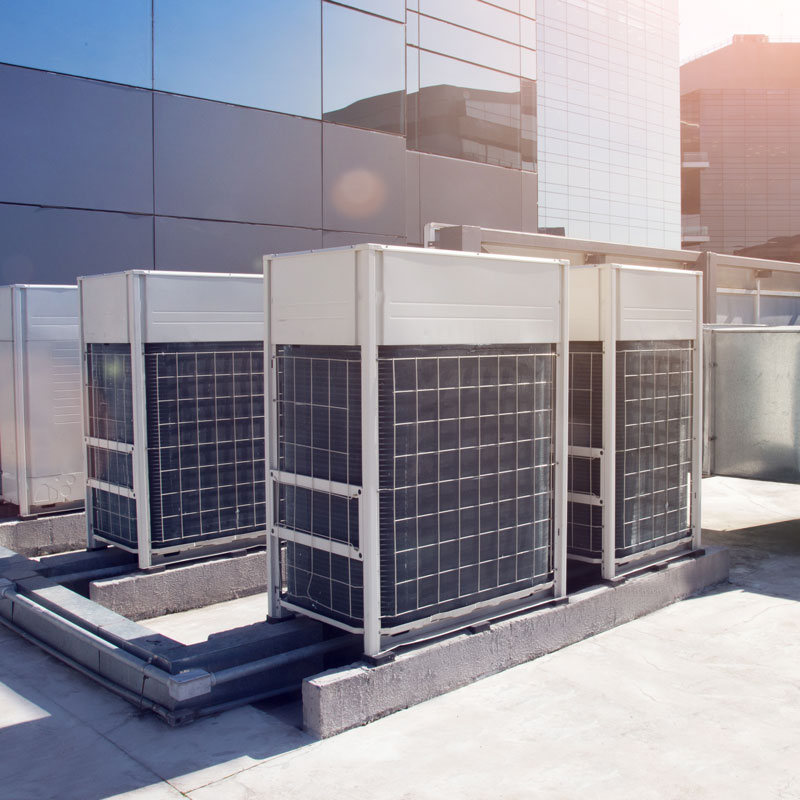 Our Commercial Maintenance Agreements Set Us Apart
We understand that every business is different. What works for an office building may not work for a large-scale industrial complex. We tailor our maintenance agreements to your business's unique size, workflow, and needs. Our team is fully trained, certified, and equipped to service all brands and components. Even the most minor malfunction can significantly impact you and your employees' comfort, mood, and productivity. By choosing us, you'll receive routine maintenance that is more convenient and cost-effective than major repairs.
Reliable Repairs With No Disruptions
We aim to provide quality repairs and replacements while enabling your workday to continue seamlessly. Our commercial services include:
RTU Repair
Our team fixes rooftop-installed heating and cooling units. We service all brands and styles.
RTU Replacement
Is your rooftop unit old or irreparable? We can install a perfect replacement to get you back to business.
Chiller Repair
We will quickly fix your chiller to restore cool, fresh air during the warm months.
Boiler Replacement
Our team can install a new boiler that boosts efficiency and heats your office correctly.
Furnace Repair
We provide minor and major repairs for all furnace brands, makes, and, models, restoring heat & comfort to your business.
Furnace Replacement
If you need a new furnace, we can provide. Our team specializes in careful old furnace removal and provide new installations.
A/C Repair
When your A/C suddenly breaks down, our team will arrive promptly to inspect your system components and make necessary repairs.
A/C Replacement
We replace old, damaged, and permanently broken air conditioners with new, more energy-efficient units and systems.
HVAC Controls
We can inspect, diagnose, and make repairs on your heating and cooling controls when they malfunction.
Air Purification
We install, repair, and maintain a wide range of air purifiers of different brands, makes, and models.
Humidity Control
Control your humidity by choosing us. We service dehumidifiers, moisture monitors, and beyond to keep your business comfortable.
Boiler Repair
We are trained and equipped to inspect all boiler components and repair them to restore heat.
Committed to You and Your Business
If you've worked, owned, or operated a business in the Central Illinois area, you're familiar with our extreme temperatures, grueling winters, and sweltering summers. When your HVAC suddenly stops working, you risk displeasing customers and making your employees' workdays harder. Thermal Services Inc. is devoted to making your business a comfortable place to work, live, and thrive. We can provide quick, 24/7 emergency services, returning your HVAC and business to full operation.
Service Area
Addison
Alton
Aurora
Bloomington
Bolingbrook
Chicago
Decatur
Deerfield
Elgin
Eureka
Galesburg
Germantown Hills
Joliet
Kewanee
Lewistown
Lincoln
Lockport
Loves Park
Mendota
Metamora
Montgomery
Morton
Mundelein
Naperville
New Lennox
Normal
Oak Lawn
Ottawa
Pekin
Peoria Area
Plainfield
Pontiac
Princeton
Rock Cut
Rockford
Springfield
Streator
Urbana
Watseka
Waukegan
West Dundee
Service Area
Peoria Area
Bloomington
Springfield
Rockford
Chicago
Galesburg
Alton
Mendota
Morton
Oak Lawn
Princeton
Rock Cut
Urbana
Kewanee
Lincoln
Normal
Ottawa
Streator
Pontiac
Watseka
Metamora
Germantown Hills
Eureka
Addison
Aurora
Bolingbrook
Decatur
Deerfield
Elgin
Joliet
Lockport
Loves Park
Montgomery
Mundelein
Naperville
New Lennox
Pekin
Plainfield
Waukegan
West Dundee
Lewistown
Contact Thermal Services Inc. Today!